Professional pool table moves and pool table repair services in Cary
Did you just purchased a pool table and are looking to have it professionally moved? You've reached the right place! Contact us to get your quote to schedule your appointment with our skilled pool table movers. We have decades of experience in the pool table moves and services industry and have built a solid reputation with our customers.
Call our team of professionals for the best service and guarantee!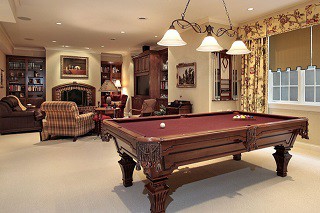 Be sure that you consider the risks of having your pool table moved by anyone other than a professional. It is always a good idea to have experts come and tear down your pool table, move it and assemble it the way they're meant to be moved.
This process is not only complex for someone with little to no experience but it is also just too dangerous. The slate pieces are very heavy and could easily break if dropped. This could also end up with the person that is moving the table being injured.
The SOLO® Pool Table Movers of Cary have been providing professional pool table moves and specialty pool table services for years. We have taken care of countless pool table moves and we are covered under an exclusive guarantee from a national organization and we protect your pool table and the property with liability insurance. This gives you the peace of mind that our competitors can't give you.
Pool tables are factory built in a meticulous piece by piece fashion, because of this the pool table has to be carefully taken apart, transported in pieces, then when installing it again it has to be built from the ground up piece by piece, accurately leveled to achieve the best playing experience and we also take care of the pool table recovering with new cloth or the existing material if in good condition and most importantly, if you're happy with it.
Pool table moves with our nationally backed company are a breeze!
Expert pool table repair and many more specialty pool table services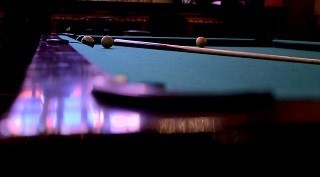 We're sure you also know what it's like to play pool on a ragged old, unprofessionally installed and out of balance pool table. Our years of experience in this industry have allowed us to properly take care of almost all types of pool table services and repairs.
Common pool table repairs include the pool table refelting, replacing the rubber cushions, and pocket repairs. Given that pool tables are intricate and elegant pieces of furniture, we definitely need to know specific details depending on the type of pool table felt, pocket style or type of cushion, pictures also help a lot to properly take care of the pool table repair or service needed.
Let us take care of your pool table to repair the right way. Taking care of pool table moves and pool table repairs require the use of proper tools and techniques to avoid any damage to any of the pool table components.
We understand that tables are of high value and some can mean very much to our customers, which is why we treat them with the utter care that they deserve and are covered accordingly.
We prioritize customer satisfaction and we guarantee a pool table assembly with perfect level. Give us a call and schedule your pool table move with the best service providers in the area.
The SOLO® Pool Table Movers are the only company with an exclusive 1-Year service guarantee that eliminates the risk during the pool table moves and warrants the materials used for any pool table repair
We provide risk-free professional pool table moves and pool table repair which are backed a service guarantee which is issued in writing by the American Billiard Installers Association.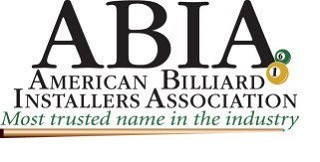 The ABIA is the only national organization that oversees service standards and practices in the billiard service industry. As Members of the American Billiard Installers Association, we are a recognized business in our industry.
We make sure your table is perfectly moved and left in the best playing condition it can be when we're finished. We are also obligated to return in case any issues arise within the 12 month period our exclusive guarantee covers.
We move from home to home, business to business or garage to garage for storage. We do complete moves, tear down only, set up or installation only and pool table refelting performed by the best pool table installers in Cary.
What's involved in pool table moves and pool table repair?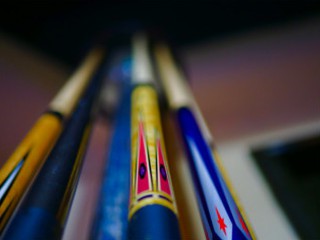 We will properly uninstall your pool table and safely prepare it to be moved. Taking the slates from the frame and getting the table into a bunch of smaller pieces so they can be easily set up at the new location.
Once at the new locations our team of professionals will install the table from the ground up, with precise new leveling on the surface to ensure a clean install and a perfect playing field.
Each piece of slate will be leveled at an extremely precise level to ensure that your pool table installation will be 100% accurate and flat. This process of leveling the base, wedging, shimming and tightening screws on the slates takes the experience to be done correctly.
Pool table moves in businesses may incur extra charges in the event we encounter complicated moves with elevators or have parking issues for your job.
There may be extra fees for excessive stairs when moving a 3 piece slate pool table. In case your table is a single slate top, we will definitely need to know the size of the table and stair situation, such as if there are any turns or if we have to go up or down.
Pool tables that have just one solid piece of slate are extremely heavy and difficult to move, so depending on the situation we may or may not be able to move it because of liability issues.
Pricing depends on the dimensions of the pool table, the type of move and circumstances surrounding the move. We recommend that you check out some very useful information we put together for your convenience in our pool table room sizes guide chart.
This information will help you get the right size of the pool table to fit in your room, in case you're still looking for one and if you already know which pool table to get but are unsure about which room to have it installed in, this information will surely come in handy.
The process of moving and installing a pool table can be a very dangerous process on your own, because of the heavy pieces or the risk of damaging your table, or worse, yourself or your property.
Professionals will certainly make that risk as small as it can be, by taking appropriate measures to ensure safe, satisfactory pool table services. The risks involved in possible damage or injury can be high. Let the SOLO® Pool Table Movers in Cary take care of all your pool table needs.